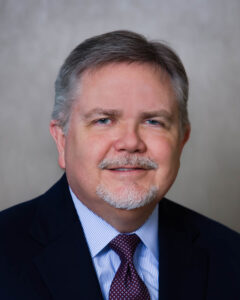 Kevin Hickman, CPA, CGMA, has been named principal-in-charge of the tax department at Crosslin. Hickman merged his local tax practice with Crosslin last year and has served as a leader for the expanding tax team since his arrival. With more than 35 years of experience, he has been instrumental in helping the tax department grow in both revenue and team members, as well as cultivating customer relationships and mentoring the young professionals in the department.
Before joining Crosslin, Hickman served as founding officer of Hickman & Associates and, before founding his own firm, worked as tax manager for a local accounting firm and assistant controller/tax manager for Tom James Company. In addition to his work in the tax arena, Hickman works with several high net-worth clients leading their family offices and has extensive experience with art galleries and private collectors.
He is a past national council member for the American Institute of Certified Public Accountants (AICPA) and is past chair of the Tennessee Society of Certified Public Accountants (TSCPA). Hickman has held several leadership roles within the TSCPA, including treasurer, professional education chair, public relations committee chair, and president of the Nashville Chapter Board.
Hickman received his bachelors degree from David Lipscomb University and his masters in European History from American Military University. He is an accomplished tennis player, having received numerous local and state recognitions.